In a nutshell, yes. Data scientists are the future CEOs. Why? because businesses are becoming increasingly data-driven and CEOs who are powerhouses in leveraging data to optimize business operations will be crucial to achieving the goals of the business. Whilst they may not write code and dig into data the entire day, they function in highly correlated capacities to data scientists but at a more senior and strategic level. Like a data scientist, a data-driven CEO looks for patterns in data before considering, for example; Is it worth acquiring company X or Y? It goes without saying that Data Analytics is redefining the role of the CEO. Let's discuss some reasons this career track could land you at the top of the company food chain. 
With the ever-increasing importance of technology and Data Analytics in modern business processes, business executives and particularly CEOs must have an excellent grasp of how the business can leverage these technologies and the large amounts of data generated to gain advantages over competitors and directly increase revenues or decrease costs.
According to a recent Deloitte Survey, despite the recent buzz in big data analytics in the past decade, the report finds that most large companies are not mature when it comes to business analytics and 62% still rely on spreadsheets. While there has been an increase in the number of organizations that have adopted advanced analytics in their business processes, most are just data analytics dabblers and only a few have actually embraced data literacy, adopted analytics, AI, and, automation and systematically transformed the way work is done across the enterprise.
Interestingly, the biggest obstacle to adopting data science in organizations is company culture. To yield the true benefits, Data Science has to permeate company culture starting from top to bottom.
What Makes a Great CEO?
According to this Forbes article, all modern CEOs should have these five skills:
High tolerance for ambiguity
A capacity to understand and embrace new technology
The power to inspire
Agile decision-making skills
The ability to assemble a great team
In the current business set-up for most organizations, when developing and implementing complicated AI and ML systems, the CEO who has the power to transform the business works closely with the Data Scientist(s) who fully understands the technology. The CEO usually has limited Data Science expertise and relies on the expertise of the Data Scientist.
To effectively leverage Data Analytics in business operations, the CEO must drive company culture to fully embrace Data Analytics in everyday business operations. The CEO would also have to communicate the data-driven vision of the company to relevant stakeholders, provide support and infrastructure for Data Scientists, and replace gut feeling and instincts with data-driven decisions.
Data Scientists as CEOs
The office of the CEO requires a combination of leadership, business acumen, strategic thinking, communication skills, etc. A Data Scientist is often a hybrid of a data hacker, analyst, investigator, and business expert. A Data Scientist who also possesses the traits of a CEO will no doubt make an exceptional CEO as he/she has a perfect understanding of the business and can efficiently leverage data analytics to transform business operations and exceed business goals. The great thing is that these CEO skills can be developed over time.
Interestingly, there are a couple of CEOs who started as Data Scientists. Sebastian Thrun is a data scientist, educator, inventor, and entrepreneur and currently the executive chairman of Udacity, one of the leading online educational organizations in the world. Thomas Thurston is a data scientist and venture capitalist who uses data science to fund disruptive startups and is currently a partner, Chief Technology Officer at WR Hambrecht+Co, and founder of Growth Science. Peter Lee is the President/CEO of RapidMiner Inc, an open and extensible data science platform. Other data scientists cum CEOs include Michael Berthold, President and founder at KNIME, Sri Satish Ambati, co-founder and CEO at H2O.ai, and Jim Goodnight, co-founder and CEO at SAS among others.
It is important to note that the CEOs mentioned above became CEOs of companies that they founded. Nonetheless, most of the renowned CEOs in the world today are experts in leveraging data analytics for effective business transformation. Larry Page, co-founder, and Partner at Alphabet (Google's parent company) and two-time CEO of the company is considered by some to be the top data scientist in the world. Other CEOs like Dean Abbott (founder and President of Abbott Analytics), Sebastian Thrun (Udacity), and Andrew Ng (CEO Landing AI) are considered to be among the top data scientists in the world.
CDO or CEO?
A leadership role that is equally appealing to data scientists with leadership aspirations is the Chief Data Officer (CDO). A CDO is a senior executive who is responsible for the organization's data use and data governance. The CDO creates value from corporate data by overseeing and supervising all of the company's big data initiatives. In most organizations, the CDO reports to the CEO or some other top-level executive. An essential part of the CDO's role is to keep all relevant stakeholders informed on the company's data strategy, policies, and procedures.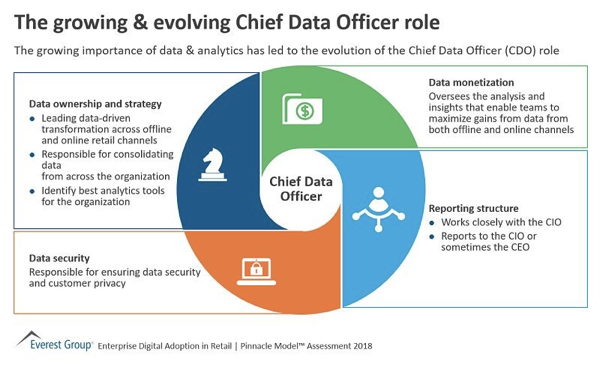 Although a new role, Chief Data Officer positions have risen over the years from as low as 2 in 2002 to about 4500 in 2020.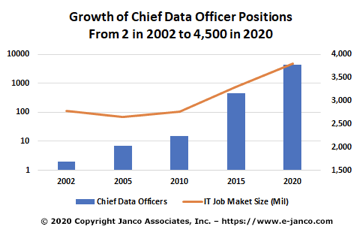 Most CDOs eventually go on to become CEOs so the CDO role is one which data scientists with leadership aspirations can aim for en route to the CEO position.
CEOs are the chief drivers of this change
Summarily, with the growing importance of technology and data in modern business, businesses must be data-driven. This requires full-scale adoption of data analytics in every facet of business operation. CEOs are the chief drivers of this change but despite the recent buzz in big data analytics, only a few organizations have successfully adopted data analytics in their business operations.
The biggest obstacle to this full-scale adoption of data-driven business operations is company culture and the importance of data-driven CEOs to successfully drive this change cannot be overstated. It is increasingly likely that before long, CEOs with data scientist backgrounds will emerge. These CEOs with data scientist backgrounds will however need to have developed the essential traits of CEOs and will thus have a perfect understanding of the business and can efficiently leverage data analytics to transform business operations.